Survival of our species
From AdCiv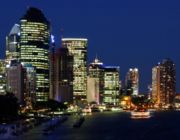 There really couldn't be anything more important to us than the
survival of our own species
. It means protecting ourselves and future generations. However we currently have all our eggs in one basket which is a precarious situation – we live on this single world while under the shadow of various apocolyptic threats, both man-made and natural, that could destroy our current civilisation and even wipe us out entirely. Ultimately we are extremely vulnerable. Asteroids, virulent disease, global war with advanced weapons – all are possible and we must protect our future.
We've come a long way and gained irreplaceable culture and knowledge in the last hundred thousand years or so, and it would be the most foolish thing in history to lose it at a time when we have the technology to do something about it. Far more likely than total annihilation of our species is the possibility of being knocked back to the Dark Ages. It is not just about surviving but having good prospects, opportunities and a rich environment to live in, and not messing things up for our descendants. It's quite tricky to have an advanced civilisation with no civilisation at all...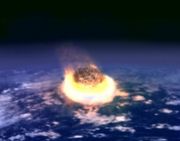 Some potential threats to humanity:
Emergent virulent disease – naturally occurring / engineered biological weapon / lab-experiment let loose (accidentally or maliciously). Possible at any time.
Out of control self-replicating molecular nanotechnology (accidental or malicious). Underlying technology is perhaps 15 years away*.
Out of control artificial intelligence. Underlying technology is perhaps 20 years away*.
Strike by asteroid or comet . Possible at any time. Accepted in scientific community as not an 'if' but a 'when'.
Global war with nuclear or other advanced weaponry. Possible at any time.
Super-volcanic geological activity . Not sure that the risks are known.
*It is impossible to accurately know when technology might actually reach this level
A note about climate change that some people may consider a threat to humanity: this is certainly something that would (and does) affect other species that do not have the means to adapt, but it would not necessarily risk our own survival. We would likely always be able to engineer environments where plants and animals that we rely on, could live. It is obviously a terrible thing to knowingly continue to alter the balance of the environment and we must do everything with in our power to reduce our impact as soon as possible, which the main concepts in this website would be capable of addressing.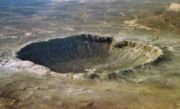 It sounds a bit grim reading about these things, and most people naturally tend not to give them too much thought, but with awareness of the problems and precautionary measures, these scenarios can be mitigated to a certain extent. Colonising Space is the ultimate insurance policy for humanity, and it needs to happen before it is too late. Leaving it up to bureaucratic, ponderous government programs is not enough.
As technology continues to increase in capability and sophistication, the more damage an individual or small group is able to do, and more damaging the consequences are from an accident or oversight.
More complex technologies need more complex management. The great spectres of the 20th century were nuclear, biological and chemical weapons - all potential weapons of mass destruction. In the 21st century we will likely add genetics, nanotechnology and robotics - all technologies that could give us even finer controlled weaponry or unforeseen accidents.
How do we peacefully benefit from these technologies without increasing the chances of an accident or unstable individuals and fanatical groups using them maliciously?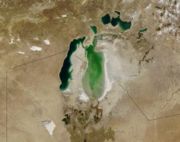 We are part of our environment and have the capability to change it drastically. We are probably not at risk of extinction due to damaging the biosphere but there are plenty of other species that are. The world becomes a poorer place due to our negligence.
Acid rain, ozone depletion, air pollution, unsustainable destruction of rain forests, global warming from carbon dioxide emmisions, increasing environmental destruction due to both urbanisation and agriculture are all examples of large-scale changes we have made directly to the environment that hugely affect wildlife and reduce our own quality of life. Currently we only have one home and on behalf of all life we must look after it.
Digital technology is reducing our environmental impact. We are moving towards a paperless society, which will greatly reduce our hunger for wood and our need to cut down rainforests.
Some people wonder what is the point of heading off into space when we have a wonderful planet to live on that provides all of our needs, and rather usefully has an atmosphere that we can breathe...
One reason is survival. At the moment we have all our eggs in one basket here on Earth. If nothing else, space colonization will be an insurance policy that will allow life to survive on other spaceships should something catastrophic happen to Spaceship Earth.
It is also the next great step for life inhabiting a new environment and spreading itself ever wider - something it has been doing for the past 3.7 billion years. Freed from scarcity, Man tends to look for interesting challenges and ways to extend his horizons. What greater adventure could there be than extending life beyond our home planet and reaching out into the stars?
On a more pragmatic note, the
resources in space
of energy, material and living space are effectively unlimited. This will allow our civilisation to constantly expand while taking the burden off the Earth. Just as the New World held the promise of abundant gold and land to settlers of the Americas, space is a frontier filled with unfathomable wealth of all kinds. Simultaneously, it holds the best promise to help ensure our survival, and the most interesting way to extend our reach. It should be a top priority.

Organisations thinking about these issues
Established in 01996* to encourage long term thinking in a world that lives in a frantic present without much regard for the future. Two major projects are Clock of the Long Now which is clock designed to run for 10,000 years and the Rosetta Project which trying to create a near permanent archive of 1,000 languages.
The mission of this seed vault is store as many seeds known to us as is possible. This is to prevent important agricultural and wild plants from becoming rare or extinct in the event of a global disaster. It is being built on the remote arctic island of Svarlbard. BBC article 7th Feb 02007*
A symbolic clock maintained since 01947* by the Board of Directors of the Bulletin of the Atomic Scientists at the University of Chicago. The clock is altered periodically to represent the perceived number of minutes to midnight, which represents Armageddon by nuclear war. The clock was wound back significantly at the end of the cold war in the 1990s, but has since moved nearer to midnight due to the increasing instability in the Middle East.
A network of national organisations involved in studying and tracking significant Near-Earth Objects (NEO)
See also B612 Foundation, named after the asteroid in the 'Little Prince' story
An organisation that aims to create an off-Earth backup of human civilisation that is able to repopulate the Earth in event of a global disaster or reintroduce knowledge of science and the arts.
A non-profit organization dedicated to helping humanity survive existential risks and possible misuse of increasingly powerful technologies
Future of Humanity Institute (University of Oxford)
"FHI's mission is to bring excellent scholarship to bear on big picture questions for humanity. Despite the great theoretical and practical importance of these issues, they have received scant academic attention... The Institute's work centres on how anticipated technological developments may affect the human condition in fundamental ways and how we can better understand, evaluate, and respond to radical change."
A leading nanotechnology research institute. They have prepared a set of Guidelines for safe nanotechnology, including the requirement that nanotechnology be programmed to self-replicate only in the presence of an external broadcast signal.
Centre for the Study of Existential Risk (University of Cambridge)
Research group primarily studying the risks of emerging technology. Founded by Prof. Sir Martin Rees (Astronomer Royal and ex-President of the Royal Society), Prof. Huw Price (Bertrand Russell Professor of Philosophy), Jaan Tallinn (founder of Skype and technology investor)
*Five digits are used here to denote years, in honour of the Long Now Foundation who use this format to help promote long-term thinking such as the 10,000 year time-frame
Other links

[print version]

[update]

[site map]
Quick tour:

previous page | next page
Detailed tour:

previous page | next page