Open collaborative design
From AdCiv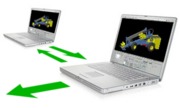 Open collaborative design
involves applying principles from the remarkable
free and open-source software
movement that provides a powerful new way to design physical objects, machines and systems. All information involved in creating the object or system is made available on the Internet – such as text, drawings, photographs and 3D
computer-aided design
(CAD) models – so that other people can freely re-create it, or help contribute to its further evolution. It is essentially the same principle that is used to progress scientific knowledge, however in reality it is much more open and transparent than much of contemporary scientific research.
A core element of this development model is a principle called 'copyleft' 

(symbol:

) which is a way of applying copyright to a creative work in a way that makes sure that anyone can freely use it or build upon it - and also that derivative works inherit the same terms, ensuring anything based on the original is freely available too. This principle means that 'copylefted' items – whether they are designs, text, artwork or computer code – are effectively gifted to humanity, adding to an ever increasing universal 'commons'. Because this principle is to the benefit of everyone, it completely changes the way that many people think about contributing their time and effort to this type of project. It already works very effectively with many high profile, successful software projects, so this is not merely wishful thinking.
Open collaborative design is a nascent field that has huge potential to radically alter the way we create goods, machines and systems – not only for personal items but all the way up to components of national or global infrastructure.

Main Page > Open collaborative design
Open collaborative design, empowered by advanced open-source CAD software, allows anyone — not just designers and engineers — to easily create new designs of products. It provides a vast array of 'copylefted' modules and artefacts for people to make use of in their designs. This not only means that people can customise things for their own needs and tastes, but makes the design process much more efficient and helps avoid the huge duplication of effort that occurs in design and engineering currently.
These principles can apply to designing the simplest things that can be made by individuals, solutions for communities in the developing world, all the way up to complex large-scale systems of national or global infrastructure involving thousands of people. Because the designs are not closed or proprietary, people are encouraged to contribute knowing their involvement not only benefits themselves but anyone else might use the results of their efforts. It also means that designs will evolve far faster because of the huge amount of parallel development that is likely to occur.
Giving these designs physical form will become fast and easy due to emerging high-speed, flexible manufacturing techniques. As a result the open design ecosystem will effectively become an internet for physical items — and the impact on society is likely to be as great as the web has been with respect to information.
Economic realities discourage large corporations from being really innovative. Corporations are unlikely to risk spending money to develop anything for which there is not a proven market. However, enthusiasts and consumer/producers who make things for their own personal use are often highly innovative and willing to make very novel products. Music is a good example of this: corporate-produced pop music is repetitive and without imagination; innovative music only comes from amateurs who are doing it out of passion. Therefore an open collaborative economy allows faster and greater innovation than a profit-driven economy.
An open collaborative project is always a work in progress. Wikipedia, for example, is always being expanded, streamlined and improved. With a lot of different people contributing to it, it continually gets better and better in small increments. Multiple versions can be developed in parallel acting like an evolutionary system. Many experimental improvements may not turn out to be better, but those adopted with further iteration develop from promising or successful examples. The community of developers and users act as the selection mechanism.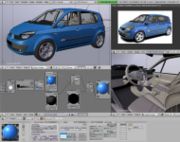 One of the core components necessary for open collaborative design to truly take flight is an advanced free and open-source computer-aided design (CAD) program to allow anyone to easily generate new designs or customise existing ones. The program should include a special browser to enable finding and importing open-source components and machines from the 'universal commons' as well as analytical tools and 'physics engine' 

which allow a significant amount of simulation and testing to be done 'virtually', saving significant amounts of time when it comes to construction.
The availability of user-friendly open source CAD software will be essential to allow the widest number of people to engage in this creative activity, which should help create a more diverse ecosystem of objects, machines and solutions. There is no reason, with thoughtful implementation, why this software shouldn't be intuitive enough for children to use easily. It could explain mechanical and engineering principles along the way if the user wished, and also be a place to store detailed contextual development notes, wiki style, to help others understand the workings and decisions made.
The virtual nature of the designs mean that far-flung people via the internet can easily work together on the same design, either working individually on various sub-assemblies of the whole or collaborating directly on the same part. The restrictions of having to finding people local to yourself with similar interests and desires becomes much less of an issue.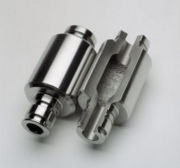 At some point virtual designs such as
Computer-aided design
(CAD) models, need to be turned into physical objects, which unfortunately isn't as straightforward as downloading software from a website. Building, testing and modifying physical designs requires effort, time and material cost, although with access to emerging flexible computer-controlled manufacturing (digital fabrication) this complexity and effort becomes drastically reduced and highly repeatable.
Some of the ways that collaborative designs created on a computer can be physically forged range from getting your hands dirty and crafting it yourself, to sending the design, or at least parts of it, as an electronic file to an increasing number of computer-controlled manufacturing systems such as rapid prototyping or advanced multi-axis CNC machines 

that can accurately create parts in 3D in a variety of materials.
What is illustrated in this section is that the world of atoms is starting to catch up with the world of bits in terms of ease of control and duplication.
We are entering the age of digital manufacturing.
Objects and machines are boiled down to pure information which can be instantly transmitted around the world and recreated physically wherever these 'fabbers' exist. Here are some of the increasing number of methods available to bring virtual designs to life...

It has been said that a camel is a horse designed by committee... Won't this development model just create a herd of camels?
No, because there is no single 'conclusion' that a design must arrive at (unlike a committee's decision). As with software, it might be that an original design is created by a single motivated individual, or a small group of people with a common purpose and shared vision, but beyond that the design can be evolved in multiple directions by other interested parties who might need a particular variation.
Many fine horses have been created within the open-source software world and it will be the same with design and engineering.
So what about free riders? What happens when there are people who only take and never give anything back?
Well, nothing really. Contributors are not expecting a specific quid pro quo arrangement — they get plenty in return from using other things in the universal commons. This is the essence of a post-scarcity economy; when a resource is abundant, it can be given away without expecting anything in return. If it is trivial to duplicate the results of someone's efforts then the more people who are able to make use of it, the better. The situation is not zero-sum — people are not going without as a direct result of someone else having it.
A situation of abundance currently exists with regard to information on the Internet; it is free to replicate, I can give it to others without going without it myself, and as a result, people give it away freely and take it freely.
Consider free and open-source software where anyone with a computer and internet connection can download the Firefox web browser or OpenOffice office software for free. Most people will be consumers rather than contributors, but this is of no consequence.
After a while of enjoying the fruits of open-source, many people are only too happy to contribute in some way, giving back to the community that has provided for them. The fact that they are not required to do this, in many instances makes it more likely that people will do so, uncoerced. This is human nature.
There are many names that this embryonic movement might go by:
Open collaborative design
Open design
Free design
Free and open design
Open-source design
Open-source hardware
Open design and engineering
Open Peer-to-Peer Design

[print version]

[update]

[site map]
Quick tour:

previous page | next page
Detailed tour:

previous page | next page